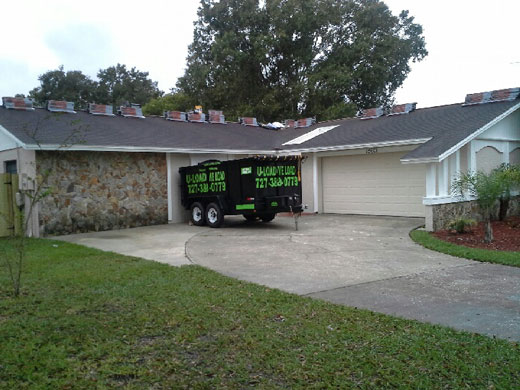 Dumpster Rental Questions
What types of items do you haul away?
Building materials: Drywall, Lumber, Windows, Plywood
Appliances: Stoves, Ovens, Refrigerators, Freezers, Washers, Dryers, Lawnmowers
Concrete & Cement: Blocks, Sidewalks, Patios, Decks
Construction materials: Debris, Tiles, Remodeling
Furniture: Sofas, Couches, Chairs, Tables, Bookcases, Recliners
Roofing materials: Shingles, Tiles
Wood: Fencing, Old Decks, Firewood, Lumber
Storage junk: Filing cabinets, Armoires, Book cases, Tool chests
Gardens: Branches, Tree limbs, Landscaping debris, Tree stumps, Sod
And just about everything else!
Do you charge an extra fee for delivery or pickup?
No. What we quote is what you will pay. No hidden charges guaranteed.
Ok, there's no delivery charge so there has to be a fuel charge right?
Wrong. Everything is included in the quote.
If I call to rent a dumpster today how soon can I have it delivered?
Most of the time it can be delivered the same day.
How long may I keep the dumpster?
Our standard dumpster rental is for 3 days. However, you can rent it for as long as needed.
Do I have to be present when the dumpster is delivered?
Not neccasarily we usually get paid when we drop it off, but arrangements can be made for payment when we pick it up. If you are not avaiable to be there at drop off, just let us know where you would like the dumpster placed.
Are there items I can't put in the dumpster?
Most haulers wont take hazardous materials, BUT WE WILL! We know how to properly dispose of tires, paint, batteries & chemicals. Just as long as we are aware that they are in the dumpster and that they are loaded last and on top. If you're unsure about a certain item call us and we'll be glad to answer any questions.
What kind of payments do you accept?
We accept cash, check and all major credit cards.
What areas do you serve?
Give us a call to schedule your clean up today.