Pasco County's Affordable Dumpster Rental Company
McKinney Hauling and Dumpster Rentals provides same day dumpster rentals in Pasco county at affordable rates. We have what you need to haul your trash away quickly and properly, whether itís residential, business, or industrial debris.
Our dumpster rental prices are charged as flat rates. What we quote is what you will pay. No hidden charges.
All of our dumpsters are heavy-duty and can handle just about any load. Our dump trailers are on wheels so they will not damage your property, unlike roll off dumpsters which can cause damage,
We'll pick up your unwanted items on time and dispose of it properly. You'll never have to worry that your debris will be dumped illegally.
Call 727-389-0779
for a Free Quote!
Areas We Serve
McKinney Hauling and Dumpster Rentals offers dumpster rental service in Pasco County, Hernando County, Pinellas County, and Hillsborough County

To see a complete list please see our Service Area page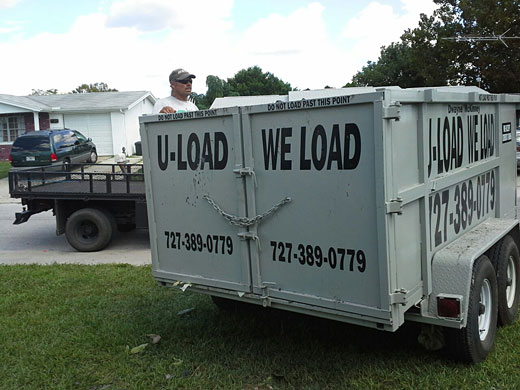 We rent dumpsters for all your unwanted items.
Construction: Home Renovations or Business Remodels can produce a lot of debris. Our dumpsters are built to remove all types of construction debris such as shingles, drywall, flooring, tile, lumber, windows, glass, etc.
General Debris Removal: Remove your household debris quickly and affordably. Our dumpsters can be used to remove old furniture, old carpet, yard debris, garage clutter, appliances, and other non-hazardous debris.
Hazardous Materials: We allow hazardous materials (i.e. paint cans, batteries, tires, etc.) We allow these hazardous materials at an additional cost. There is a limit of 5 tires and 5 gallons of paint. We'll separate them and dispose of them properly. We prefer these materials to be loaded last near the rear doors. Call us for pricing.
Do It Yourself or
We Can Do It For You!